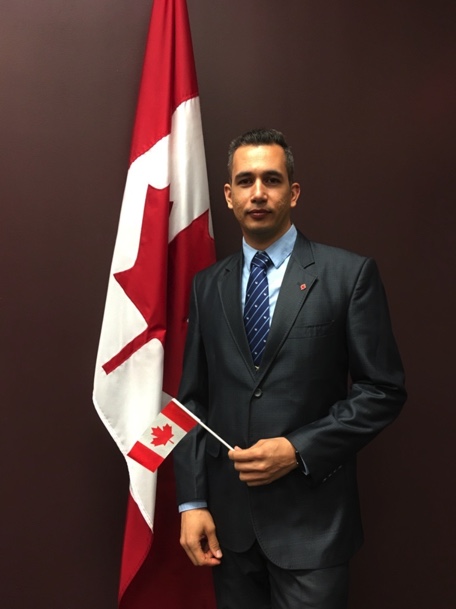 Seyed Hossein Nozadi:

We stand on guard for thee
Seyed Hossein Nozadi is a cyclist, swimmer and bona fide workhorse, having served as the main IT technician for over 80 small- to medium-sized companies in one given time. So he wasn't quite nervous to start his own start-up company in Managed IT Services in Toronto, Canada; providing everything from server maintenance, remote desktop support, website development and cyber security. Now President, he is eager to help other businesses thrive in an era of mental and economic recovery amidst what he describes is a constant barrage of cyber-attacks from around the globe.  
"I've always been used to seeing my parents work so hard, growing up in Iran, and also knowing firsthand of what it's like to be under attack. There's something about having seen war and strife that changes you," says Seyed. "It really requires a sense of hypervigilance and a mindset centered around resilience." 
These days, System Support Canada, his start-up company in its first year of operations, battles multiple cyber threats on a daily basis. It's an ongoing issue. He credits the commitment of his team and their pursuit of knowledge around proactive security updates, fortified back-ups and additional reactive measures as tactics that have helped companies bounce back after being compromised.  
Nozadi came to Canada in 2014 and first settled in Montreal, Quebec. Trilingual in French, English and his native Farsi, he moved to Toronto to chase a career in information technology and quickly found himself leading a team of technicians for a local Managed Service Provider, which are companies who specialize in providing outsourced IT support services. The experience paid off as his reputation now precedes him and has helped secure contracts mostly through word of mouth. And with his work ethic, he is honoured to earn and retain the trust and confidence of his clients. 
"I take my work very seriously and there's always new updates, software pushes, and security threats – you can never know it all," says Seyed. I'm proud to be serving others and am looking forward to venturing out into the financial and legal work settings. We've been very focussed on securing contracts with companies in the linguistics and translations industry, but my team and I are becoming more familiar with the challenges and tools specific to other industries as well. I think we know how to help others thrive." 
Tomorrow is about a resilient and brave mindset 
A specialist in data science and computer engineering, Nozadi and his team at System Support Canada are taking advantage of new technologies introduced by major companies like Microsoft, Google and Amazon and are building a virtual learning centre to help fellow MSP technicians troubleshoot in the field: "We are not afraid to learn about these emerging products and to implement them for our clients for the most up-to-date solutions. We're telling everyone we know to help us build this new learning repository." 
Standing guard 24/7 
He is passionate about keeping on top of things which is why he continues to expand his personal network of information technologists, technicians and cyber threat analysts.  For Nozadi, the pursuit of knowledge and sharing it is something that he hopes will help act as buoys for fellow technicians.
Related Posts
by
systemssupport
November 29, 2023
by
systemssupport
September 11, 2023